Homfggg, how could I have missed posting this yesterday~~~ ;A; *Regret regret regret over my eternal curse of forgetfulness*

Nya nya nyah, I know that I'm always late for everything, but hey, at least I'm not too late this time, since it just recently happened two days ago in Korea!! >.<;;;

Anyway! *Coughs*

It amuses me a little, how someone so badass...
Who plays the guitar, has tattoos, smokes and boozes his life away, and is a total rebel and rock star, could ever......
.........MARRY SOMEONE WHILE LOOKING SO SWEET AND TENDER AT THE SAME TIME!!!!!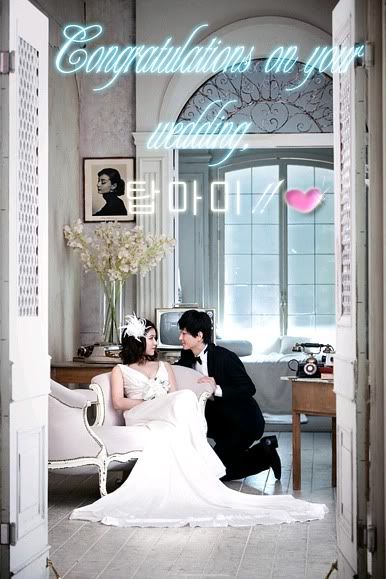 KYAAAAAAAAAAAAAAAAAAAAA WHAT IS THIIIIIIIIIIIIIIIIIIIIIIIIIIIIIIIIISSSSS
SS- *Shriiiiiiiiiiieeek*
Okay, I'll stop shrieking my head off now, *coughhackcough*. Sorry 'bout killing your F-list, everyone, to those who are currently irritated with me right now. m(_ _;;)m

Anyway!! This! Was a very important day for one of my most favorite guitarists, Top (mommy)!! ;w;

NO, NOT BIG BANG'S T.O.P. GOD, WHY IS IT WHENEVER "TOP" IS MENTIONED, PEOPLE AUTOMATICALLY GO "OMFG BIG BANG TOOOOOOOOOOOOP HE SO HOOOOOOOOOOOOOOOT I SURE WISH I COULD MARRY HIIIIIIIIIIIIIIM-". THIS IS AN ENTRY DEDICATED TO SEO TAIJI'S TOURING BAND'S GUITARIST TOP, AND NOT SOME RANDOM RAPPER DUDE FROM A K-POP IDOL GROUP. THIS ENTRY IS FOR TOP TO GET THE SPOTLIGHT SHONE ON HIM, NOT T.O.P. OF BIG BANG. IN FACT, T.O.P. SHOULD FOLLOW TOP'S PATH AND GET MARRIED TO HIS TRUE LOVE AS WELL, SO THAT HE DOESN'T HAVE TO WORRY ABOUT POSSESSIVE CRAZY FANGIRLS GETTING ALL UP ON HIS BACK, ANGRY FANGIRL WRATH BE DAMNED. *Rage rage rage angst angst angst pops a blood vessel*
ヽ(
o
`皿′
o
)ノ

Getting back on topic again, ahem!!

Top mommy has finally got his wedding rings with his new wife, and now they can live together in peace and happiness from now on~! |D Don't they just make an adorable couple, even though I really have no clue who Top's new bride is? He didn't talk about her at all on his blog/Cyworld; I got the wedding date info from Korean news media articles, how sad. ;O;

The picture they took in the photo studio looks absolutely beautiful though, along with his newly-wed wife!! *________* She looks stunning in her lovely white wedding gown, along with Top mommy in his swanky suit, although she looks a bit taller than him in the pic, but you can't really tell since she's sitting down 'n' all, in my opinion anyways XD;; I have a strong feeling that they'll have a wonderful time spending the rest of life with each other, and if they do decide to, make some bee-UTIFUL babies as well. ;DDD *Brick'd for being suggestive on a sensitive topic*

Apparently, they had been dating each other for quite a couple (no pun intended) of years, isn't that just sweet?? Ah, I nearly burst in happiness when I first read the news. If another one of my favorite band members gets hitched as well, then I dunno what I'll do. XDDD Probably implode on the spot from bliss? It'll be great, though, to see more of my favorite members marrying the love of their lives~ >w< ♥

I wonder what Taiji and the others did for Top mommy... They better have attended his wedding!! >O Ah, but I can imagine them crashing it instead of properly celebrating with him, or everyone getting wasted from drinking too much champagne, ahahahah XDDD;; Those crazy lovable dorky band members~ ♥♥♥

Eh? Why do I call him Top mommy, you ask? Wellllll, it's just a nickname his fans have given him. All of Seo Taiji's band members have a fan-given nickname, kukukuu~ Can you guess who the daddy is? :3

...Ding ding dinnng, that's right, it's Taiji himself!! XDDD But I guess Taiji can't be the dad anymore, since Top's new wife has to be the daddy, now. :( Yes, you read that right. Top is still the mommy, while his wife is the daddy. There can be no relationship with Top being a father!! For he makes a much better loving mother than a caring father, not to mention he might have a bad influence on his kids if he really decides to be a father and get in touch with his masculine side ;OOO

I can't believe that so many years have passed with just Top rocking out, messing around, and being a member of Seo Taiji's live touring band as usual, and then all of a sudden, BAM out of the blue, he gets married!! It just boggles my mind, the idea of anyone getting married... @A@;; But I'm glad that Top can live his life even more to the fullest, with his beloved wife at his side~ X3

But gone are the days of freedom of being single, now!! I hope that the two won't have that many lovers' quarrels, and that they can always be at peace with each other/make up with each other if they do fight at times, no matter how far-fetched that sounds with modern, stressful society today. XD;; Ah, I can recall it vividly as if it happened just yesterday, back when I was a wee kid, watching lives of when Top used to look younger 'n' chipper like this~:




So many years have passed!! *Nostalgia* It still hasn't fully sunken into me that Top has a wife now!! @___@; But I hope he had a blast on his wedding day, along with his bride 8D Hopefully, he didn't drive her too crazy from pre-marriage stress and all before they sealed their vows with a kiss ;DDD

If all else fails though, then Top should simply seduce her like what he did on his wedding day/how he captured his bride's heart, by playing his guitar and pouring his heart out with a suave tux on. Because men wearing a nice tuxedo + playing a guitar skillfully to serenade their lover = Teh smex. |DDD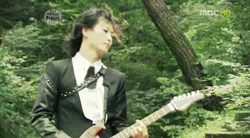 Damn, if I saw that in real life, then I'd propose first, and not him. *_____*



But yeah, no cut, because I simply had to announce this news to the world my poor F-list. I apologize now about all that fluffy stuff above. ^^;;;
Once again, I wish Top and his newly-wed wife the best of all relationships, and a happily ever after~
♥♥♥♥♥
Current Location:

家

Current Mood:

happy

Current Music:

서태지 - Juliet